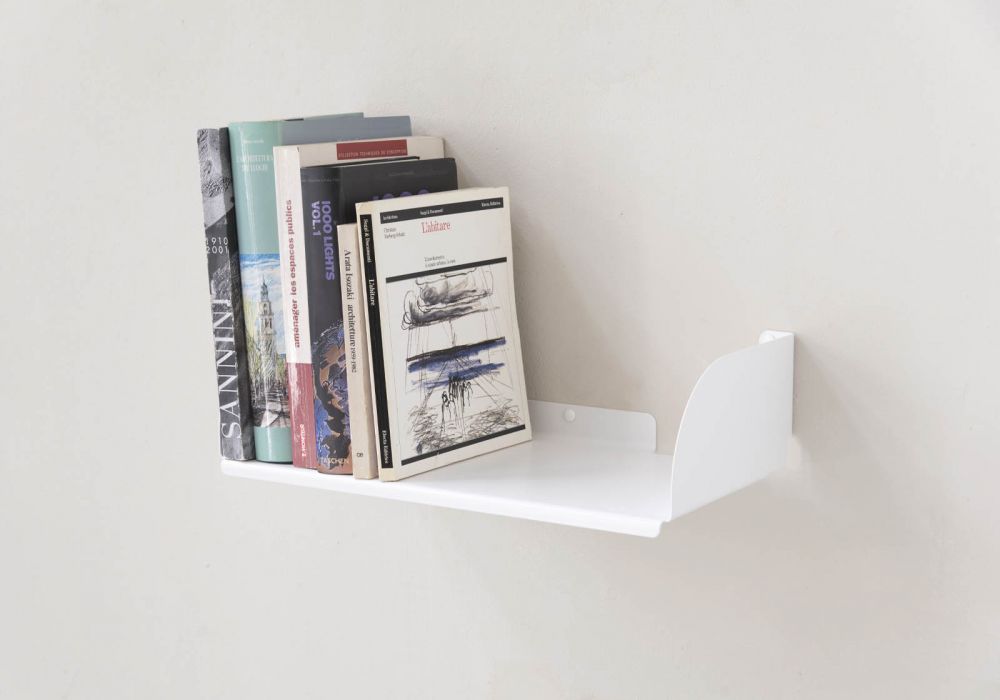 Wall Bookshelf 45 x 25 cm - White Steel
Wall Bookshelf 45 x 25 cm is specifically designed for large format books (art books, comic books).
Shelf dimensions: Depth 25 cm x Height 15 cm x Length 45 cm.
Supplied with screws and dowels.
Material: High-quality steel FE 360 DC01.
Matt white epoxy paint finish.
Suitable for small and large areas.
Easy to set up with 3 screws.
Each shelf can hold up to 20 kg.
Depth

25 cm

Height

15 cm

Lenght

45 cm

Weight

2 x 2.8 kg

Capacity

2 x 30 kg

Painting

Matt Epoxy

Material

Acier FE 360 DC01
The UBD Book Shelf - 45 cm: dimensions adapted to large formats
Tired of large books that don't fit in your library? Tired of irregular rows of books that mix all sizes and give your bookcases a disorganized look? TEEbooks has found THE solution! Be proud of your large books and put them on the UBD bookshelf, specially designed for comics, art books, large photo albums, cookbooks, dictionaries... Indeed, each UBD shelf has comfortable dimensions (25 cm deep / 15 cm high / 45 cm long) designed to accommodate large books. Its U shape is ideal for storing your books vertically, but thanks to its appreciable height, you can also display them horizontally and thus read the titles of your books more easily: an asset when looking for a copy.
A wall-mounted bookcase: maximum storage space in a minimum of space
The UBD storage system consists of 6 wall-mounted shelves that you can freely attach in a linear fashion, in a staggered pattern, or at your convenience, to create a stylish and organized reading corner. The modularity of these shelves also allows you to place your books anywhere in your home: recipe books in the kitchen, photo albums in the living room, dictionaries in the office. With the UBD modular bookcase, you adopt a consequent storage space on which you have the possibility to store up to 20 kilos of books! TEEbooks offers you the bookshelf for comics in white because it contributes to give a bright impression and visually enlarges the space.
See more bookshelves
How to fix a wall shelf ?
All wall types
How to fix a wall shelf ?
Plasterboard wall
How to set up your bookcase?

Our customers also like
Price

€430.65

Regular price

€477.65

-€47.00

Price

€290.28

Regular price

€362.85

-20%

Price

€103.32

Regular price

€129.15

-20%

Price

€173.40

Regular price

€344.40

-€171.00

Price

€493.95

Regular price

€612.95

-€119.00

Price

€1,091.40

Regular price

€1,451.40

-€360.00

Price

€248.90

Regular price

€282.90

-€34.00

Price

€309.96

Regular price

€387.45

-20%

Price

€290.28

Regular price

€362.85

-20%

Price

€605.70

Regular price

€725.70

-€120.00

Price

€241.90

Regular price

€302.38

-20%
Others products in the same category
Price

€193.52

Regular price

€241.90

-20%

Price

€309.96

Regular price

€387.45

-20%

Price

€605.70

Regular price

€725.70

-€120.00

Price

€269.30

Regular price

€299.30

-€30.00