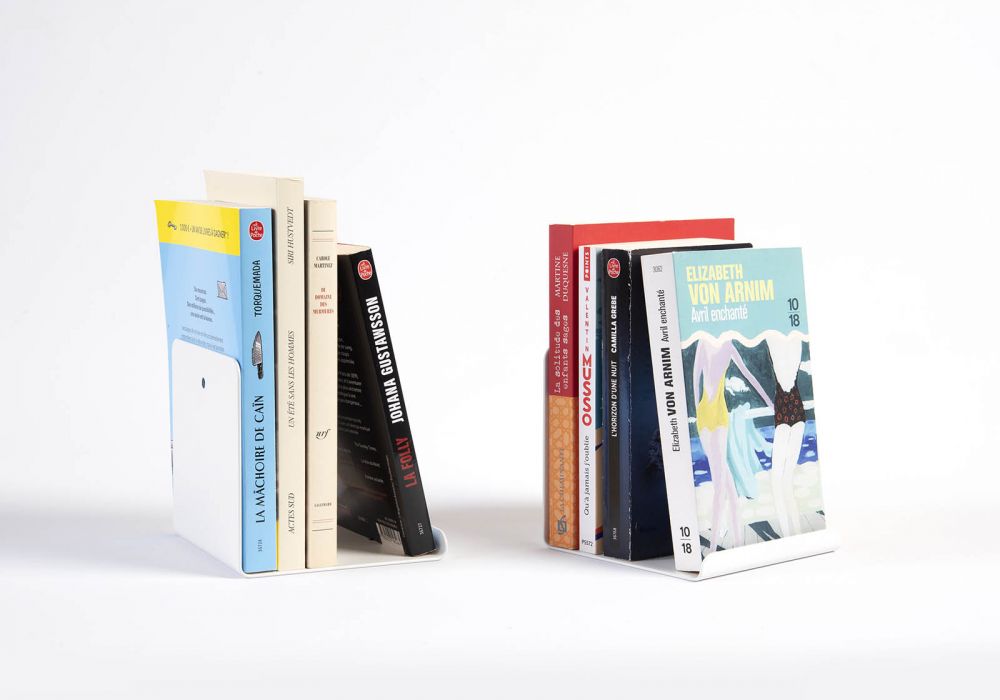 Bookend 12 x 12 cm - White - Set of 2
Bookend 12 x 12 cm - White - Set of 2 | Organise and enhance your books in style. Allows you to keep books in place on the shelf or on your table.
Dimensions of each bookend: 12 cm deep, 12 cm high, 12 cm long.
Material: High-quality steel FE 360 DC01.
White epoxy paint.
A versatile shelf that can be used to hold your books as well as to hang them individually on the wall.
A practical everyday accessory for book lovers.
Others products in the same category
Depth

12 cm

Height

12 cm

Painting

Matt Epoxy

Material

Acier FE 360 DC01
Trendy accessory for readers
The Bookend 12 x 12 cm - White - Set of 2 is the must-have accessory for all passionate bibliophiles. With its perfect dimensions of 12 cm depth, 12 cm height and 12 cm length, it offers a practical solution for organising and displaying your favourite books. This bookend is made from high-quality FE 360 DC01 steel, ensuring exceptional strength and durability. Its white epoxy paint gives it a smooth and elegant finish that blends in harmoniously with all styles of decoration.
Aesthetic and functional bookends
Intended for bibliophiles, this bookend is specially designed for those who like to organise their book collection with style and elegance. It keeps books securely in place while proudly displaying them, creating an enchanting setting in your library or reading space. With this bookend, you can let your creativity run wild. Play with the different heights and positions of the books to create unique and aesthetically pleasing compositions. You can also combine them with other bookends to create original and individual arrangements.
Durable bookends
Made from high-quality materials, this bookend is designed to last over time. It offers a sturdy and reliable solution to keep your books in place for many years, without the risk of damaging them.
How to fix a wall shelf ?
All wall types
How to fix a wall shelf ?
Plasterboard wall
How to fix a wall shelf TEEall 100 cm?
How to fix a wall shelf TEEall 50 cm?
Our customers also like
Price

€59.00

Regular price

€72.00

-€13.00

Price

€44.00

Regular price

€88.00

-€44.00

Price

€69.00

Regular price

€75.00

-€6.00

Price

€42.50

Regular price

€85.00

-€42.50

Price

€98.00

Regular price

€118.00

-€20.00

Price

€69.00

Regular price

€75.00

-€6.00

Price

€88.00

Regular price

€176.00

-€88.00

Price

€68.00

Regular price

€136.00

-€68.00

Price

€29.00

Regular price

€39.00

-€10.00
Others products in the same category
Price

€29.00

Regular price

€39.00

-€10.00

Price

€29.00

Regular price

€39.00

-€10.00

Price

€29.00

Regular price

€39.00

-€10.00

Price

€58.00

Regular price

€78.00

-€20.00