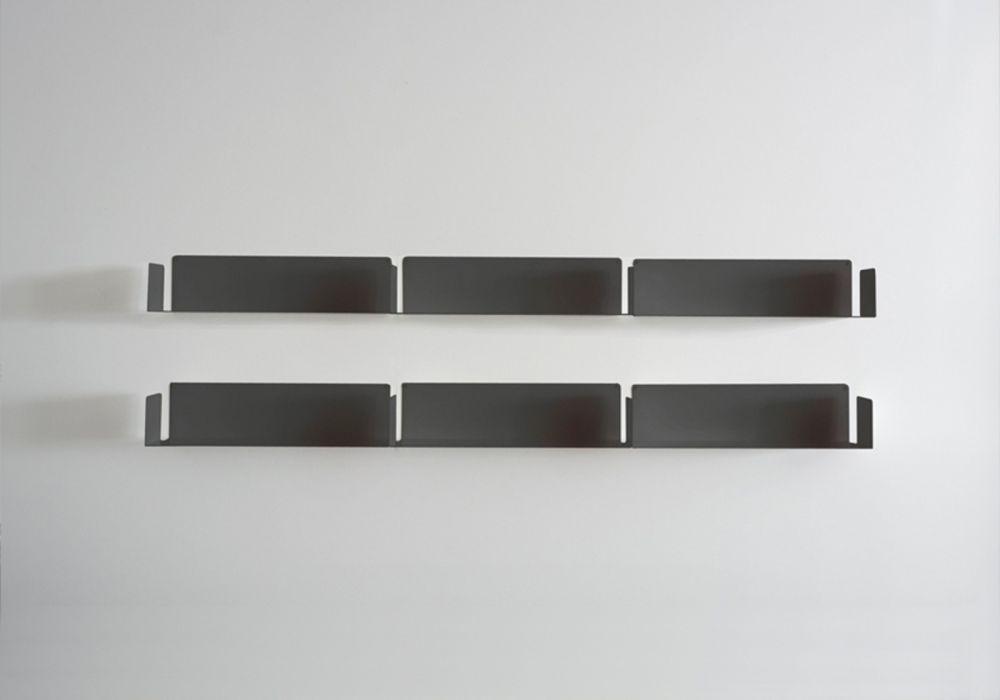 Bookcase Lineaire 60 cm Gray - 6 shelves
The Bookcase Lineaire 60 cm - 6 shelves, composed of 6 U-shapes wall shelves, can easily be fitted in your home to create a little or large storage space: vertical or horizontal, let your imagination run free to suit your needs
Characteristics for each shelf : depth 15 cm, height 15 cm, length 60 cm, weight 3,2 kg
Made of FE 360 DC01.
Each shelf can holds up to 20 kg.
Depth

6 x 15 cm

Height

6 x 15 cm

Lenght

6 x 60 cm

Weight

6 x 3,2 kg

Capacity

6 x 15 kg

Painting

Matt Epoxy

Material

Acier FE 360 DC01

Exclusion Flux

Oui
Bookcase Lineaire 60 cm - 6 shelves
These divine floating shelves by TEEbooks belong to the functional family of wall shelves, instead of being imposing creations that devour space. Whatever the style of your home, choose to utilize space with this made-to-measure shelving. Each shelf can support up to 20kg. The Bookcase Lineaire 60 cm - 6 shelves provides up to 3.6 linear metres of design-conscious bookcase design.
Take a look at our other design-conscious bookshelves.

Our customers also like
Price

€1,056.00

Regular price

€1,416.00

-€360.00

Price

€242.00

Regular price

€276.00

-€34.00

Price

€479.00

Regular price

€598.00

-€119.00

Price

€353.00

Regular price

€378.00

-€25.00

Price

€58.00

Regular price

€92.00

-€34.00

Price

€588.00

Regular price

€708.00

-€120.00

Price

€180.00

Regular price

€336.00

-€156.00

Price

€330.00

Regular price

€354.00

-€24.00
Others products in the same category
Price

€318.00

Regular price

€336.00

-€18.00

Price

€330.00

Regular price

€354.00

-€24.00

Price

€318.00

Regular price

€336.00

-€18.00

Price

€68.00

Regular price

€112.00

-€44.00