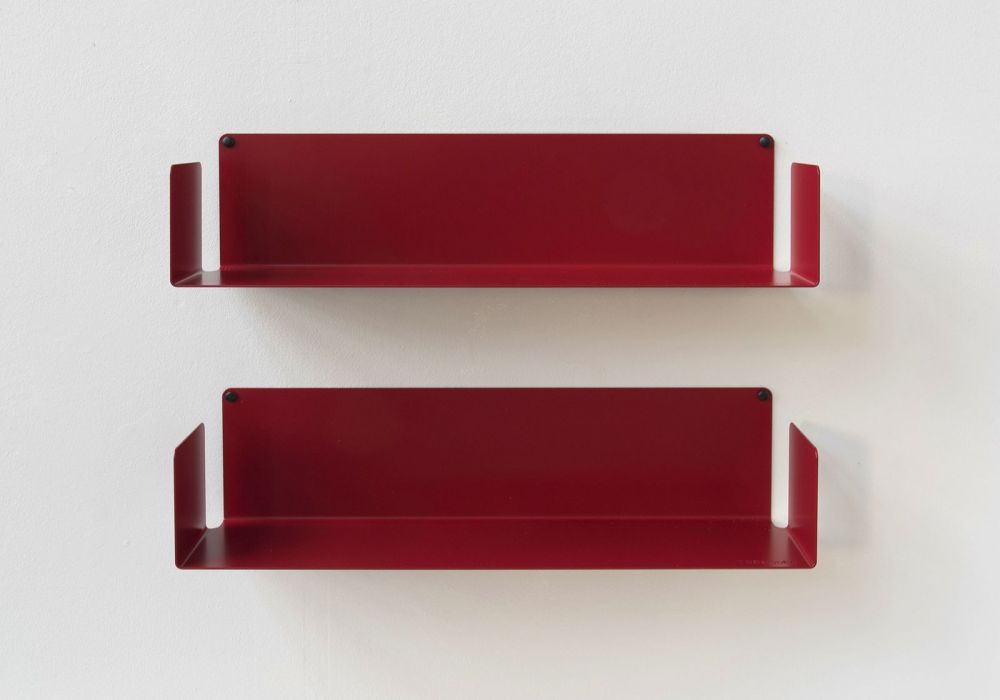 Floating shelves Red "U" - 60 cm - Set of 2
The set of 2 floating shelves red "U" is a simple and functional way to store your book collection.
Characteristics for each shelf : depth 15 cm, height 15 cm, length 60 cm, weight 3,2 kg
Made of FE 360 DC01 steel
Each shelf can hold up to 15 kg.
The 2 shelves offer 1,20 linear meters of usable length!
Depth

2 x 15 cm

Height

2 x 15 cm

Lenght

2 x 60 cm

Weight

2 x 3,5 kg

Capacity

2 x 15 kg

Painting

Matt Epoxy

Material

Acier FE 360 DC01
Floating shelves red "U" - 60 cm - Set of 2
You can use the floating shelves red"U" to create your very own TEEbooks Bookshelves design. A simple, functional wall-mounted bookshelf, just the way you want it. You can use all of these design-conscious shelves to create a TEEbooks design bookshelf to your specifications.
Display your books, your DVDs, CDs, horizontally and/or vertically, that's one of the big advantages with TEEbooks wall shelves. The wall-mounted shelves open up many possibilities.
See more floating shelves.
How to fix a wall shelf ?
All wall types
How to fix a wall shelf ?
Plasterboard wall
How to set up your bookcase?

Our customers also like
Price

€1,091.40

Regular price

€1,451.40

-€360.00

Price

€605.70

Regular price

€725.70

-€120.00

Price

€103.32

Regular price

€129.15

-20%

Price

€309.96

Regular price

€387.45

-20%

Price

€166.90

Regular price

€282.90

-€116.00

Price

€102.00

Regular price

€123.00

-€21.00

Price

€173.40

Regular price

€344.40

-€171.00

Price

€493.95

Regular price

€612.95

-€119.00

Price

€290.28

Regular price

€362.85

-20%

Price

€129.45

Regular price

€141.45

-€12.00

Price

€248.90

Regular price

€282.90

-€34.00
Others products in the same category
Price

€290.28

Regular price

€362.85

-20%