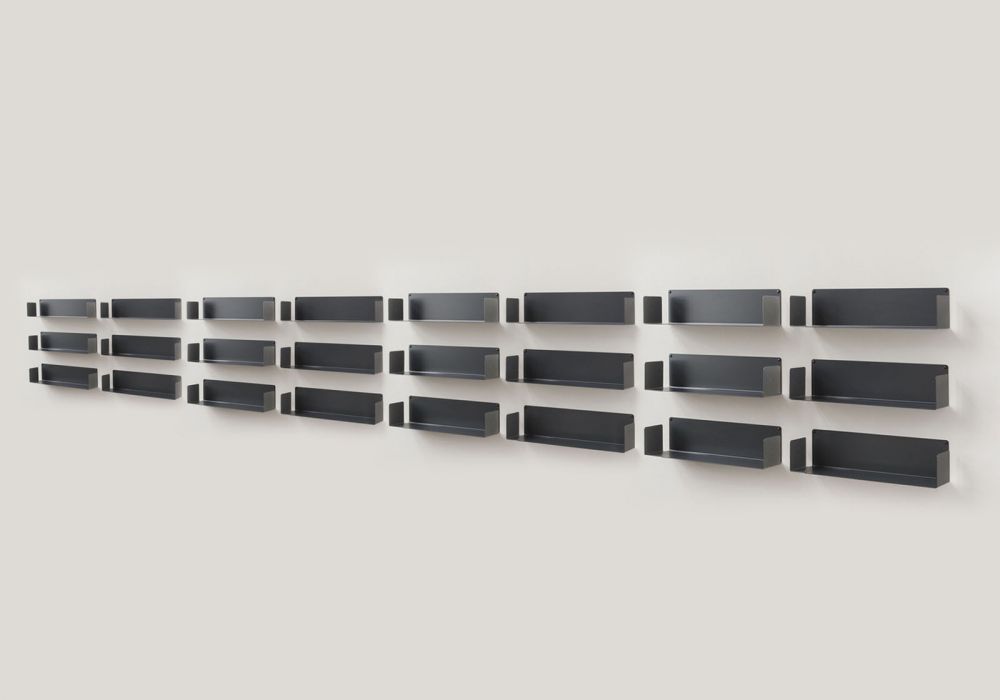 Bookcase Gray - 60 cm - Set of 24
The set of 24 Bookcase "U" is a simple and functional way to store your book collection.
Characteristics for each shelf : depth 15 cm, height 15 cm, length 60 cm, weight 3,2 kg.
Made of FE 360 DC01 steel
Each shelf can hold up to 15 kg.
The 24 shelves offer 14,40 linear meters of usable length!
Depth

12 x 15 cm

Height

12 x 15 cm

Lenght

24 x 60 cm

Weight

12 x 3,2 kg

Painting

Matt Epoxy

Material

Acier de 1,5 mm d'épaisseur
Bookcase - Set of 24
You can use all of these Floating helves to create a TEEbooks design bookshelf to your specifications.
Display your books, your DVDs, CDs, horizontally and/or vertically, that's one of the big advantages with TEEbooks bookshelves.
The Bookcase opens up many possibilities. A simple design which delivers a simple and functional Bookshelf Design.
See more floating  shelves.
How to fix a wall shelf ?
All wall types
How to fix a wall shelf ?
Plasterboard wall
How to set up your bookcase?
How to fix a wall shelf TEEall 100 cm?
How to fix a wall shelf TEEall 50 cm?

Our customers also like
Price

€189.00

Regular price

€204.00

-€15.00

Price

€366.00

Regular price

€390.00

-€24.00

Price

€498.00

Regular price

€521.00

-€23.00

Price

€99.00

Regular price

€120.00

-€21.00

Price

€269.00

Regular price

€292.00

-€23.00

Price

€662.00

Regular price

€780.00

-€118.00

Price

€398.00

Regular price

€432.00

-€34.00

Price

€1,170.00

Regular price

€1,560.00

-€390.00

Price

€699.00

Regular price

€777.00

-€78.00
Others products in the same category
Price

€198.40

Regular price

€248.00

-20%

Price

€99.20

Regular price

€124.00

-20%

Price

€244.00

Regular price

€260.00

-€16.00

Price

€104.00

Regular price

€130.00

-20%