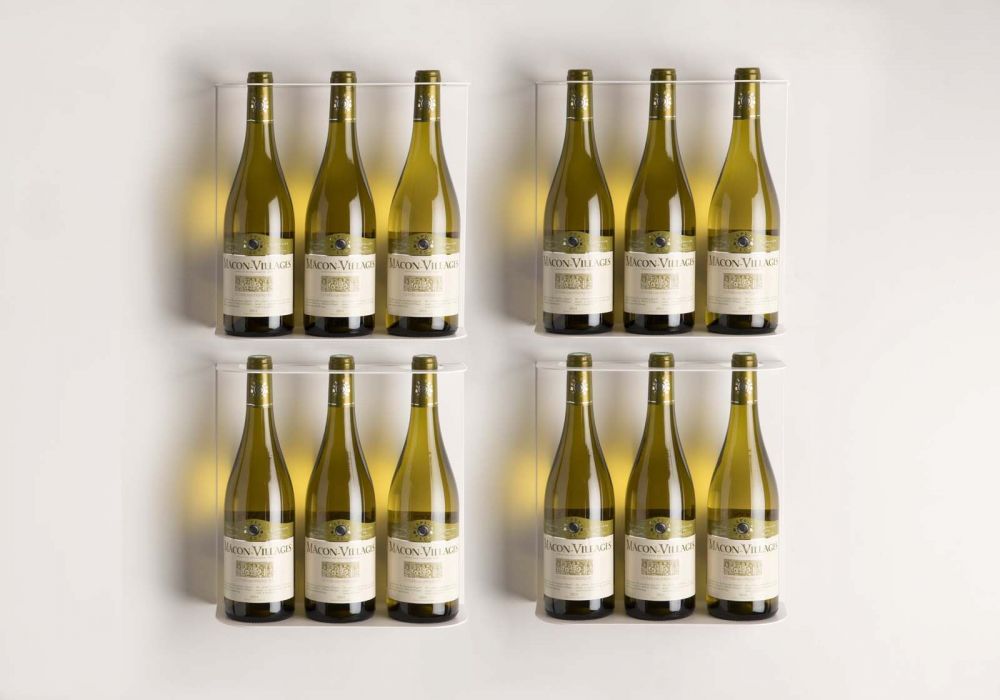 Wine wall shelves TEEwine - Set of 4
The set of 4 wine wall shelves TEEwine can hold up to 12 bottles
Works with wine bottle, vinegar, oil, water...
Characteristics : depth 12 cm, height 28 cm, length 28 cm, weight 1,5 kg
Made of 1,5 mm-thick steel
Each shelf can holds up to 10 kg.
You can assemble them to create a small wall-mounted unit for the kitchen
Depth

4 x 10 cm

Height

4 x 28 cm

Lenght

4 x 28 cm

Weight

4 x 1,5 kg

Capacity

4 x 10 kg

Painting

Matt Epoxy

Material

Steel 1,5 mm of thickness + 3 element in nylon
Wine wall shelves TEEwine - Set of 4
You can use the bottle holder to store your bottles as you wish in a limited space.
You can store a large panel of bottle (wine, water, lemonade, oil and more...)
You can select the colour of the bottle holder (white or grey) by clicking on the desired colour.
See more kitchen shelves.

Our customers also like
Price

€318.00

Regular price

€336.00

-€18.00

Price

€1,056.00

Regular price

€1,416.00

-€360.00

Price

€479.00

Regular price

€598.00

-€119.00

Price

€330.00

Regular price

€354.00

-€24.00

Price

€119.00

Regular price

€140.00

-€21.00

Price

€588.00

Regular price

€708.00

-€120.00

Price

€353.00

Regular price

€378.00

-€25.00

Price

€70.00

Regular price

€138.00

-€68.00

Price

€242.00

Regular price

€276.00

-€34.00

Price

€180.00

Regular price

€336.00

-€156.00
Other product in the same category
Price

€70.00

Regular price

€138.00

-€68.00