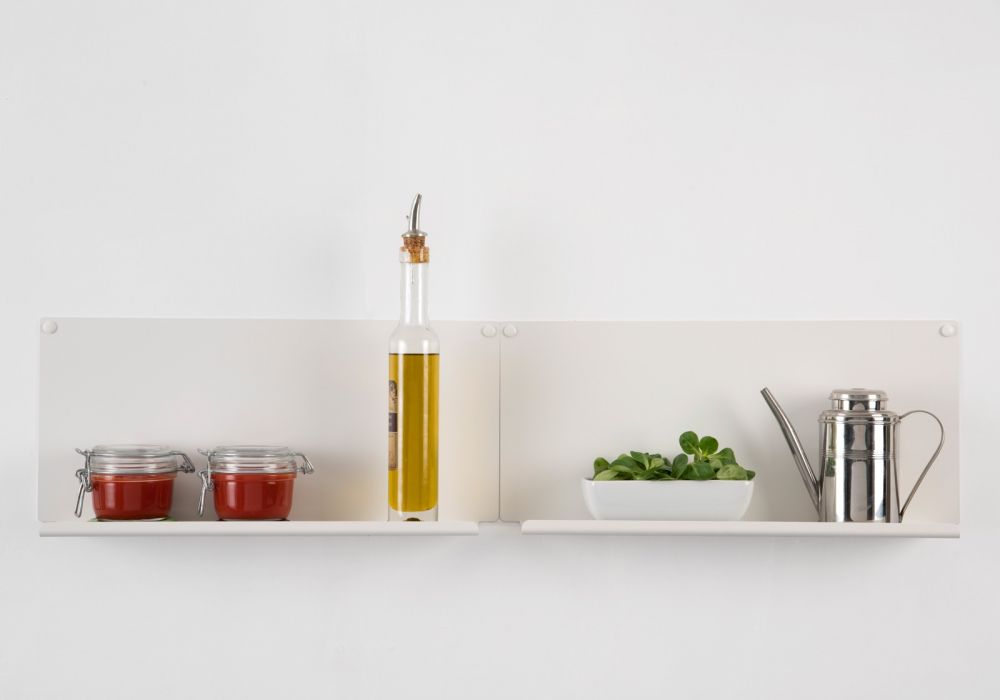 Set of 2 kitchen shelves "LE"
The set of 2 "LE" kitchen shelves are simple and functional shelves.
Characteristics : depth 10 cm, height 20 cm, length 45 cm, weight 1,8 kg
Made of 1,5 mm-thick steel
Each shelf can holds up to 20 kg.
You can assemble them to create a small wall-mounted unit for the kitchen, positioning them either horizontally or vertically.
Depth

2 x 10 cm

Height

2 x 20 cm

Lenght

2 x 45 cm

Weight

2 x 1.8 kg

Capacity

2 x 15 kg

Painting

Matt Epoxy

Material

Acier FE 360 DC01
Set of 2  kitchen shelves "LE"
The kitchen shelves are small shelves that are not very bulky thanks to their reduced depth (10 cm).
You can position them as you please, horizontally or vertically, to obtain small but very functional wall units in the kitchen.
TEEbooks kitchen wall shelves are made of steel sheet, 1.5 mm thick, and can support loads of up to 20 kg.
See more kitchen shelves.
How to fix a wall shelf ?
All wall types
How to fix a wall shelf ?
Plasterboard wall
How to set up your bookcase?

Our customers also like
Price

€290.28

Regular price

€362.85

-20%

Price

€173.40

Regular price

€344.40

-€171.00

Price

€309.96

Regular price

€387.45

-20%

Price

€493.95

Regular price

€612.95

-€119.00

Price

€1,091.40

Regular price

€1,451.40

-€360.00

Price

€248.90

Regular price

€282.90

-€34.00

Price

€605.70

Regular price

€725.70

-€120.00

Price

€102.00

Regular price

€123.00

-€21.00
Others products in the same category
Price

€57.80

Regular price

€114.80

-€57.00

Price

€112.90

Regular price

€118.90

-€6.00